Light Commercial Solutions
Water the way it's meant to be!
Reverse Osmosis is one of the most comprehensive water filtration methods available today. R/O Filtration treats a wide variety of health and aesthetic contaminants. It is capable of removing contaminants ranging from unpleasant taste, color and odors; to the more serious health concerns such as arsenic, asbestos, atrazine (herbicides/pesticides), fluoride, lead, mercury, nitrate, and radium.
Standard Features
LED Controller. Hydraulic shut off valve
5u 20″ pre-filter – for sediment, rust and dirt
Carbon Block & GAC 2.5″X20″ Pre-filters, for chlorine removal
Large GAC 2.5″X10″ final polishing filter, for taste and odor
Auto Flush to increase membrane life
Low / High Pressure Shut Down
Powder coated mounting bracket
Easy to Install. Installs like any under sink R/O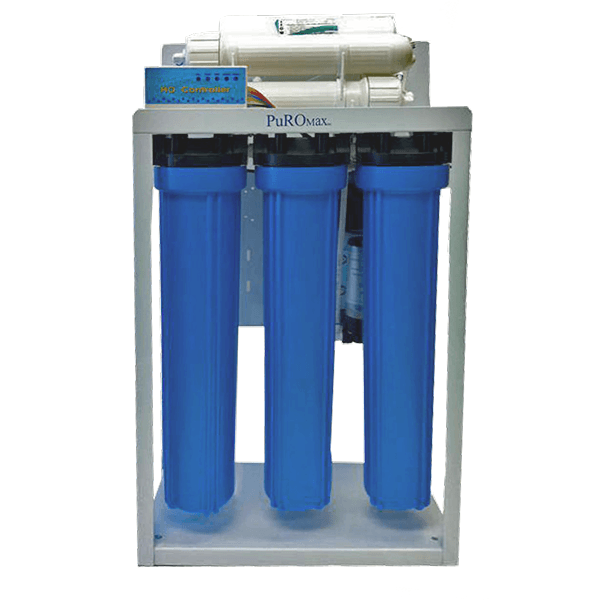 System Capacity GPD†
300 Gal/Day
Production as GPM
0.20
Rejections as GPM
0.14
Total GPM
0.34
Recovery
58.0 %
Feed Connection
3/8 Poly Tube
Product and Drain
1/4 Poly Tube
†300 gpd +/- 15% @ 65psi, 25° C Potable Water.
Membrane Thin Film Composite
3 – 2″ x 10″
Maximum TDS
1000
Operating Pressure
80 PSI
Pump
PM-EC-203-100A
Voltage (With Transformer)
110 Volts
Pre-Filter Size
2.5″ X 20″
Faucet / Tank
Sold Separately
Space required ≥ 32-1/8″H x 17-1/2″W x 9-1/2″D Weight 52#