WSS USRO Refiner/RO Water System
The Flow Guard refiner water conditioning systems are engineered to remove chlorine, taste, odor, sediment and softens the water. The electronic control technology uses high efficiency calculation that determines your family's daily conditioned water usage.

The Omni-Pure RO that comes with this system is high efficiency with Mineral Filter and PH filter.
Features
Built-in automatic bypass. Water flow maintained to your home during regeneration.
The system control automatically calculates how much conditioned water is used day after day. It remembers any change and only regenerates when necessary. This saves up to 50% on salt and conserves water.
Brine Tank Refills with conditioned water only. Conditioned water circulates through the refill flow control. The valve can be programmed to pre-fill or post-fill the brine tank for optimum performance.
Meter hall-effect turbine.
Reserve calculating for optimum efficiency.
Override today selections.
Noryl® valve construction. Durable and non-corrosive, glass-filled plastic valve.
All components meet or exceed FDA, UL and NSF compliance.
Two hour battery backup. Maintains memory for up to 2 hours of power interruptions.
Light commercial applications. Can backwash tanks up to 21 in.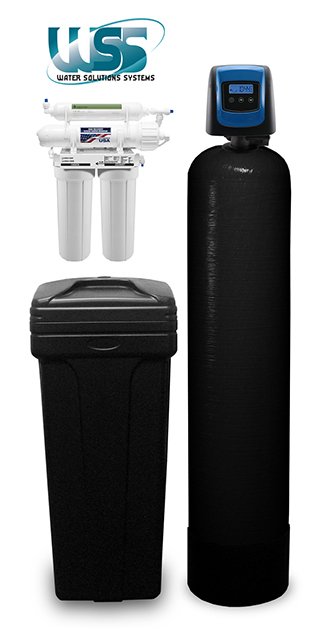 SYSTEM CAPACITY AND APPLICATION
Flows by Tank Size
9 x 48
10 X 54
12 X 52
13 X 54
14 X 65
16 X 65
18 X 65 ‡
21 x 62 ‡
Service/Peak
4.2 / 6.5 gpm
6.3 / 9.7 gpm
8.4 / 13 gpm
10.5 / 16.2 gpm
12.6 /19.5 gpm
16.8 / 26 gpm
21 / 32.5 ‡ gpm
29 / 45 ‡ gpm
‡ To achieve flow rates greater than 27 gpm a 1.25″ valve or greater is required.